Posted by Steve Head on 13th Feb 2019
When I first started turning claves prototypes about 6 months ago, I tried every type of hardwood that I could get my hands on. I knew that I wanted to explore all possibilities other than the tried and true woods. After creating a literal truck load of wood shavings and several hundred dollars worth of firewood, I settled on the most simple of designs and 4 basic wood species.
The 4 woods that I choose were Hard Maple, Cherry, Walnut and Mahogany. The audible pitch of the Hard Maple is the highest with the Mahogany being the lowest. All 4 of the woods project very well and will cut through just about any mix of musical instruments.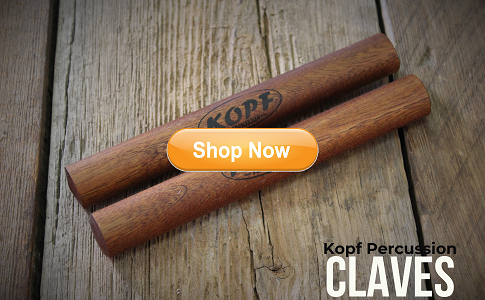 These traditional style claves are 1" in diameter and 8" long, fitting comfortably in the hand. The design is meant to make them easy to hold and strike.
The Claves are meant to resonate to produce sound so I knew from the start that I was not going to use a heavy finishing product like lacquer or polyurethane that would just cover up the wood and dampen the tonal quality of the hardwood. After countless experiments, I came up with my own blend of Boiled Linseed Oil, Pure Turpentine and Natural Beeswax paste. I apply this finish with a cotton cloth and let it dry for a specific amount of time. After it has cured I hand buff it with a lint-free cloth to a silky smooth satin finish. The finish is both durable, moister proof and feels amazing in the hand.
If you are looking for professional quality claves that will last a lifetime, please check out the new Kopf Percussion Traditional Claves Line in Mahogany, Cherry, Walnut and Maple.
Check out this video to learn more about the Claves:
Learn More About My Line Of Handcrafted Instruments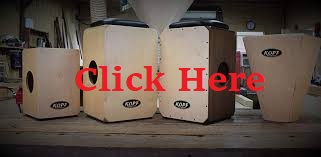 Check out my blog post: