Posted by Steve Head on 28th Dec 2018
Over the years, I have handcrafted literally thousands of Kopf Percussion® cajons. But there has always been one of my models that seemed to stand above the rest. That is the S-Series Snare Cajon. It's characteristics of having a great deep bass tone along with nice responsive snares are two reasons why I believe it has been so successful. Another is the complete separation between the bass and the snares. When you play the bass, you don't hear the snare and when you play the snare, you don't hear the bass. It also has a very warm tone due to the materials that I use in the construction of it.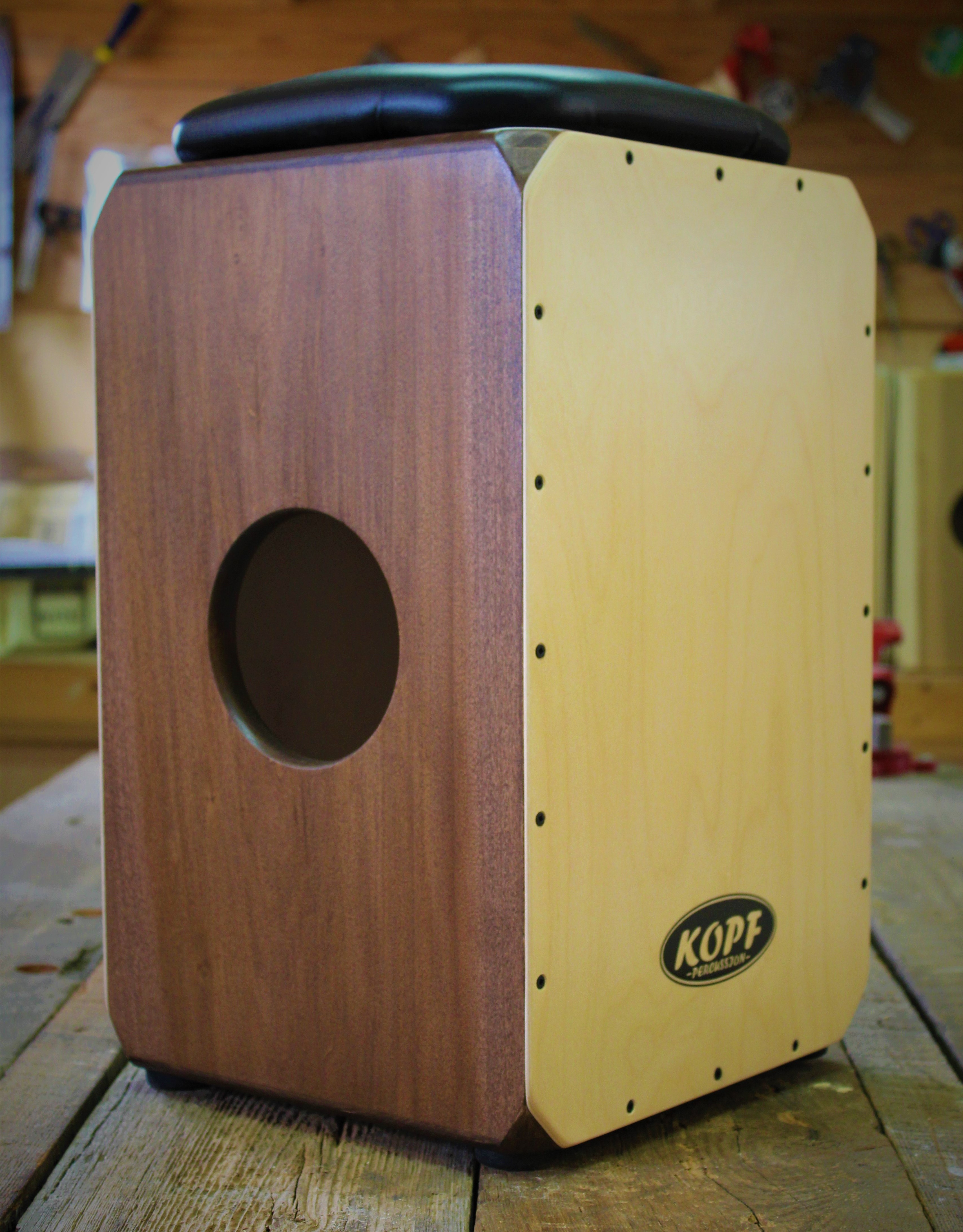 This cajon starts with the most basic part of the structure, the shell, being crafted from 3/8" solid poplar. This timber has been used in drums in the past but in a cajon, it produces a very warm tone.Also, because it is solid timber rather than plywood, the tones can resonate. With plywood, the glue in between the veneers can block alot of tone from ever being heard.
I use imported Russian Birch 3 ply 1/8" plywood for the Tapas or playing surfaces. I like russian birch because of the high quality construction. It generaly has no voids between the plys like you commonly find in other types of plywood.This makes for a more tonally sound tapa that also is more durable.
The S-Series Snare cajon has two playing surfaces that oppose each other.One tapa has snares and the other does not. This dual tapa design lends to the drums great resonance. It also provides percussionists with a wide variety of tonal opportunities. These tapas are screwed to the shell with black oxide coated wood screws. By screwing the tapa to the shell rather than gluing them, it produces a very deep and punchy bass tone and great slap and snare tones.
I also handcraft an upholsted cushion seat that is attached to the top of the acoustic box drum. This seat has a 2" high density foam cushion on a 1/2" baltic birch backer that is wrapped in a high quality motorcycle seat vinyl. The seat is attached to the drum with 4 screws that are hidden with caps.
All my cajons receive a water-based clear satin finish that is applied by hand.Supporting the cajon are 4 steel reinforced rubber feet that are also attache with black oxide coated screws.
If you are looking for handcrafted professional level cajon that offers deep bass tones along with responsive snare sounds that are separate from each other, you should consider the S-Series Snare Cajon.
Learn More About My Line Of Handcrafted Instruments